Matt Reeves (director of Cloverfield) delivers an exciting well made follow-up to 2011's Apes reboot. James Franco and Caesar's relationship was at the heart of the first film and made for a more realistic movie. This one is pretty hard science fiction of the dystopian variety.
Probably the closest relationship in this movie is between Caesar and his son, both CG creations. The human star is Jason Clarke who is serviceable, but about as charismatic as a soggy carrot. He also starred in the one star suckfest Zero Dark Thirty. The film wastes countless minutes giving him and even his eye candy wife character (Keri Russell) not only lines, but lines about her back story like it matters in the slightest. Her character is involved in one plot point to justify her whole existence. Gary Oldman is underutilized as the leader of the human survivors and is given a three second back story. Caesar (Andy Serkis) does really have screen presence. Every scene he's in is better. He and a few apes are the only ties to the first film. Both apes and humans have their obvious "loose cannons" who appear in every single apocalypse movie. Because being in the end times isn't bad enough, you also have to deal with assholes. See: The Walking Dead.
I remember the music being better in the first movie as well. Other than the complete rip-off (called a homage) of Jerry Goldsmith's score from the original film the music by Michael Giacchino is forgettable and uninspired. It could have really helped elevate this flick.
I have done this before and I will give this a star just for the vfx. They truly are unbelievable. The bar for animals has now been set. Noah's Ark by ILM doesn't come close to the detail and time spent on screen of Weta's most epic fx fest so far. Kong was good, but that was one ape – this is hundreds – and unlike Kong, they're in the movie the entire time.
Any fan of the original movies will get a kick out of it. I think they did miss an opportunity to make some real commentary, but the original themes are still there. Getting a movie as bleak as the originals made in the '60s and '70s is not going to happen in a $150 million Hollywood summer blockbuster.
Best of all, there was no Ape Lincoln in sight.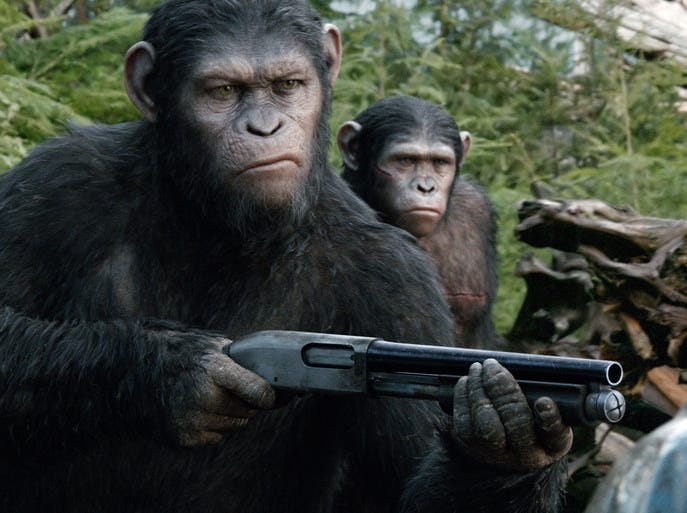 4 Apepocalypses Outta 5